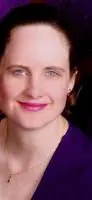 If you're feeling stuck, overwhelmed and unsure what to do next, it's time to get empowered. You're capable of so much more than you know. Let's turn your pain and uncertainty into growth you never thought possible.
In solution-focused therapy, we work together to create a life that's worth celebrating. We can't change difficult events from the past, but the lessons they hold are keys to becoming who we're meant to be.
I love witnessing clients achieve their purpose in daily life. In truth, it's what we're all designed to do. I work best with adults of all ages who suffer depression, anxiety and troubles navigating life transitions. I have a passion for helping those who suffer chronic pain and illnesses. I particularly enjoy working with people of diverse backgrounds, including members of the LGBT+ community.
If you're looking for support and guidance through a challenging situation or you're just ready to move in a new direction, I'm ready to partner with you. Let's do this.
Please call or email me for an appointment.

I'm a PSYPACT certified provider meaning I am authorized to deliver telehealth services to anyone residing in a PSYPACT state. Please see a list of participating states: Click here.
I'm also a registered telehealth provider for those residing in Florida. Please see further information: Click here.